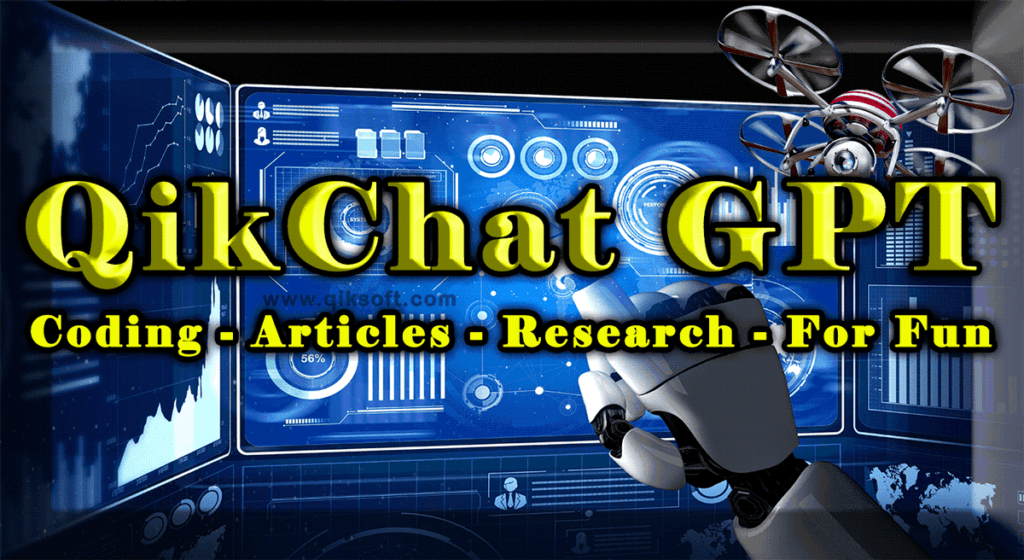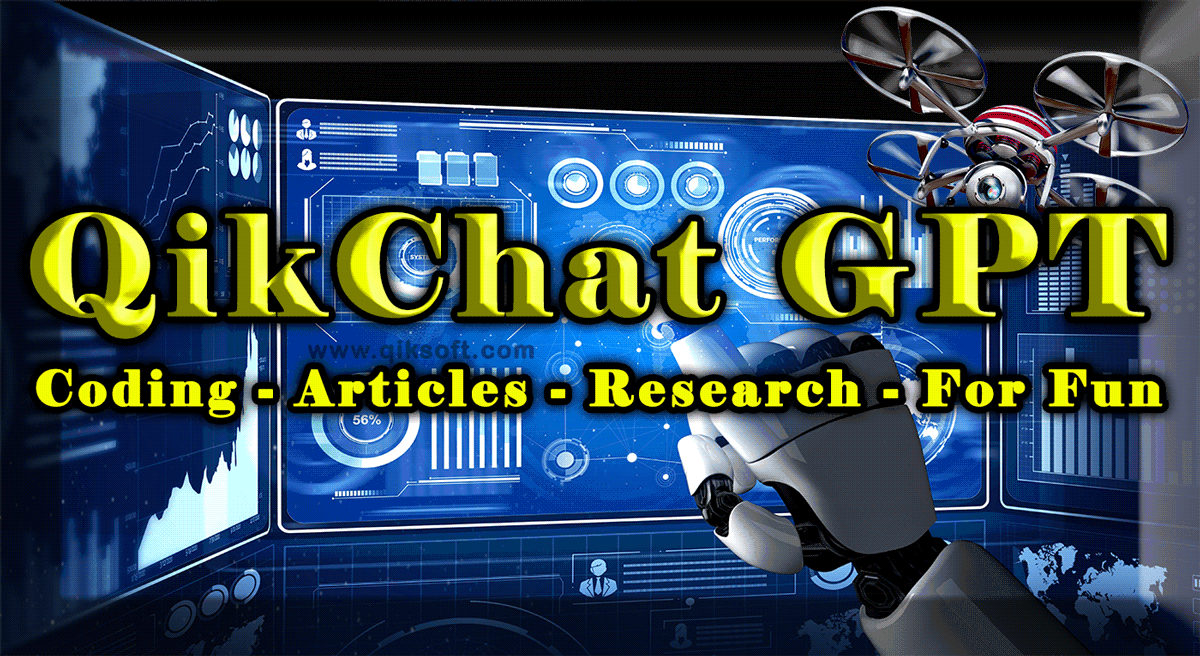 Featuring Text to Speech and Speech to AI – Great for Coding – Writing Articles – MUCH MORE!
The Best Part, QikChat GPT Windows Software is 100% FREE!
Introducing the FREE AI QikChat GPT – Your Ultimate Windows AI Software Companion!
Are you tired of spending countless hours typing away at your keyboard? Do you wish there was an easier way to communicate with OpenAI and get your thoughts across? Look no further, because QikChat GPT is here to revolutionize the way you interact with AI in general!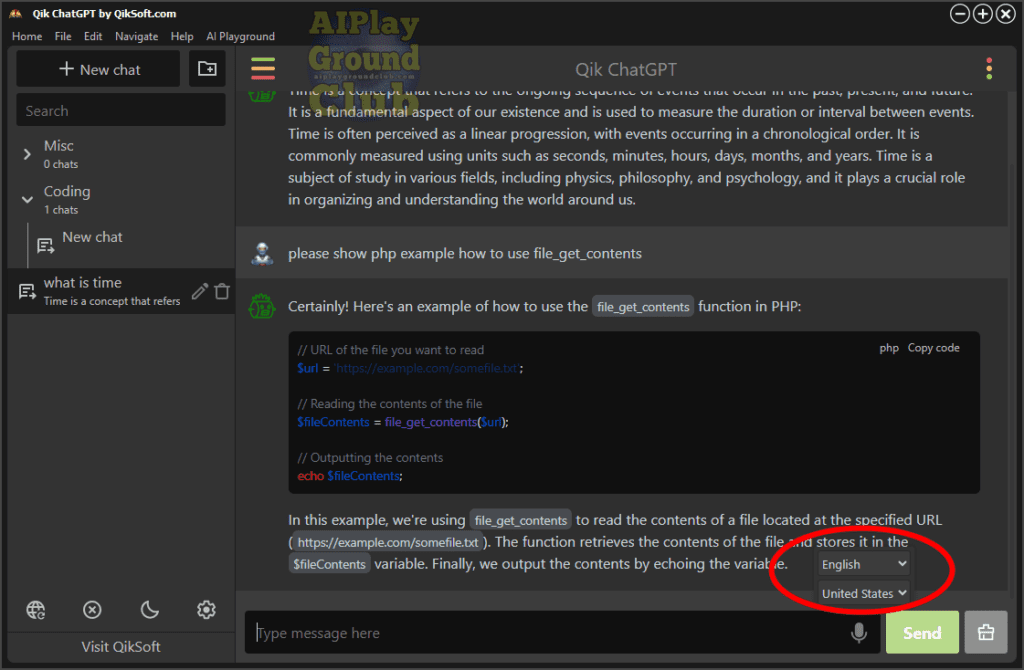 QikChat GPT AI is a cutting-edge, free Windows software designed to enhance your AI productivity and make your life easier. With its advanced speech-to-text technology, you can now effortlessly convert your spoken words into written text for use with OpenAI. Say goodbye to tedious typing and say hello to a more efficient and natural way of communication!
But that's not all – QikChat GPT for OepnAI takes it a step further with its AI output to speech feature. With the power of artificial intelligence, you can now receive responses in speech format. Simply input your query and let QikChat GPT generate an intelligent and articulate response for you to listen to. And the best part? You can even download these AI responses in mp3 format, allowing you to listen to them anytime, anywhere or use in videos and/or podcasts!
QikChat GPT is a versatile AI tool that caters to a wide range of needs. Whether you're a coder looking to improve and troubleshoot code, an article writer seeking a more efficient way to generate articles, or a researcher who needs to assistance, QikChat GPT has got you covered. Say goodbye to time-consuming tasks and embrace a faster, smarter way of communicating with OpenAI.
Compatible with Windows 8 to 11, QikChat GPT seamlessly integrates with your existing system, ensuring a smooth and hassle-free experience. Whether you're a tech-savvy individual or a novice user, you'll find QikChat GPT incredibly user-friendly and intuitive.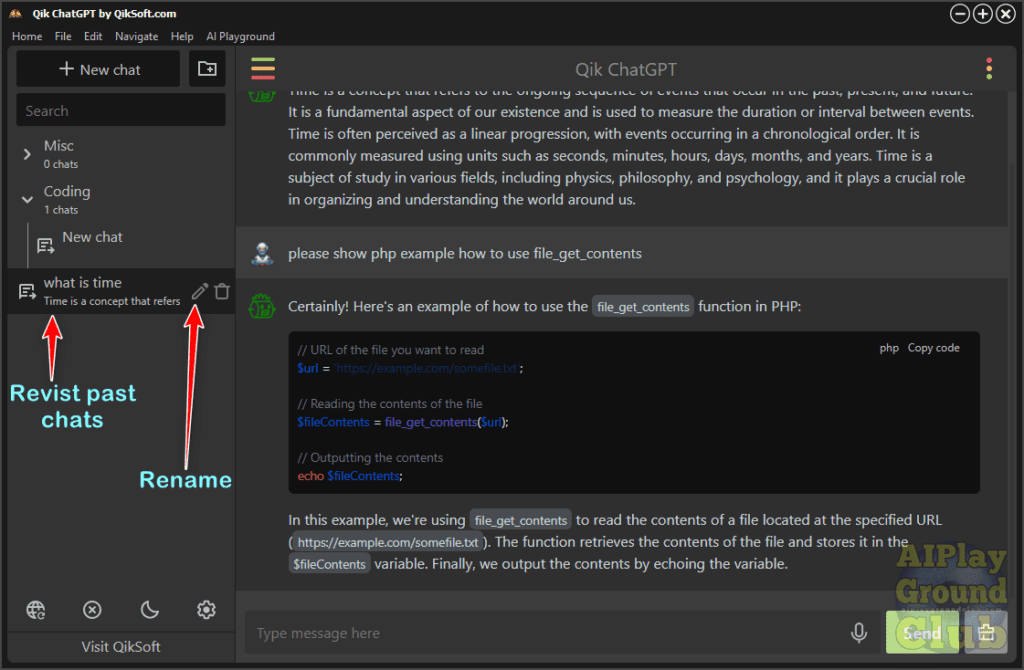 Don't miss out on this incredible opportunity to boost your productivity and streamline your workflow while communicating with OpenAI. Download QikChat GPT today and unlock the power of speech-to-text and AI-generated speech. It's time to say hello to a more efficient and enjoyable computing experience!
Features at a glance:
Folder Organization: Easily organize your AI requests into folders for better management and accessibility.
History and Export: Save and export all your past AI questions and responses for future reference or analysis.
Theme Options: Choose between light and dark themes to customize the look and feel of the interface according to your preference.
Hotkey Efficiency: Use hotkeys to quickly access and utilize the features, ensuring efficient and seamless usage.
Local Data Control: Retain full control of your data locally, ensuring privacy and security.
Copy Content Buttons: Conveniently copy content with just a click of a button, saving time and effort.
MP3 Download: Download AI responses in MP3 format for offline listening or sharing with others.
Model Compatibility: Support for both OpenAI Models 3.5 and 4, providing flexibility and compatibility with different AI models.
Custom Prompts: Define system roles and customize prompts to personalize the AI experience.
Output Typing Speed: Adjust the typing speed of AI responses to match your reading pace, enhancing readability and comprehension.
Continuous Output: Enable continuous output to receive a continuous stream of AI responses, allowing for more interactive conversations.
Quality Options: Set top_p options to control the quality and diversity of AI responses, tailoring the output to your specific needs.
Custom Speech Output: Customize the speech output of AI responses to match your preferred style or language.
Coding ready: Will help you write new code or improve your existing code. Great coding assistant.
And More: Explore additional features and functionalities to enhance your AI experience even further.
Remember, QikChat GPT for OpenAI is absolutely free, so why wait? Get started now and witness the future of AI firsthand.
100% FREE DOWNLOAD
Virus Free, Review Results Here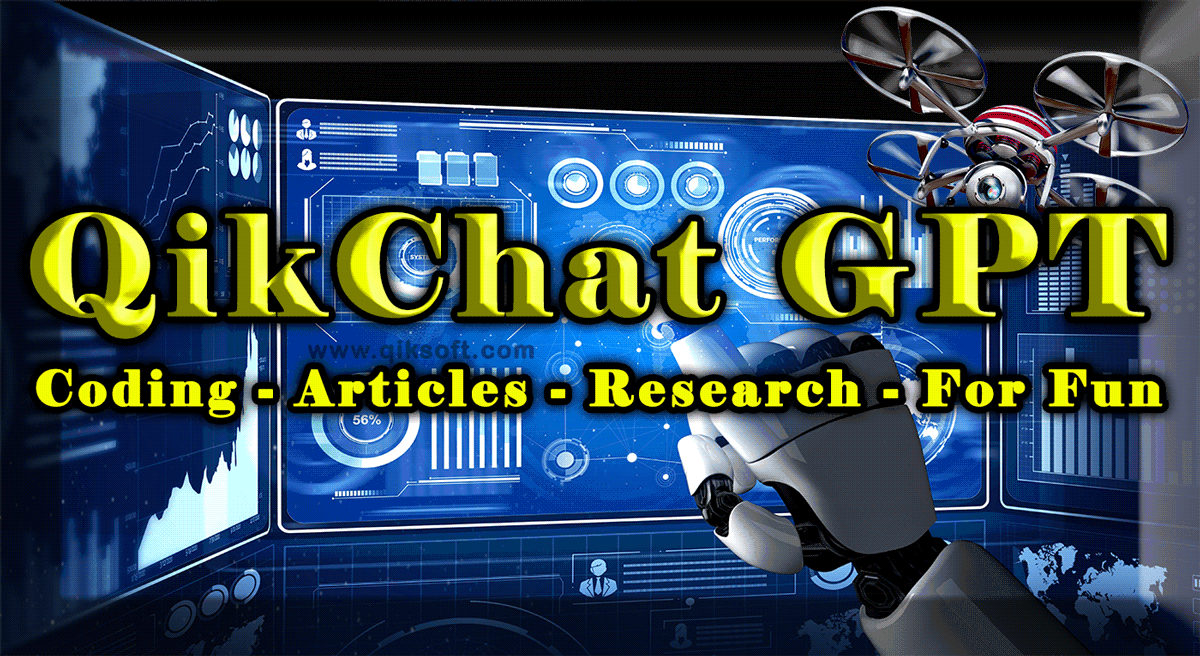 QikChat GPT OpenAI Software
Remember, QikChat GPT software is absolutely free, so why wait? Get started now and witness the future of AI!