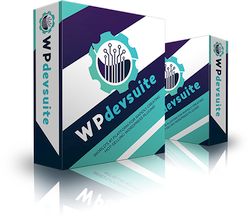 Our WP Dev Suite Review in 2 simple steps, you could create your own WordPress software to sell online, use as a traffic-magnet, or as the winning bonus for promoting affiliate products, and you're even shown how to do that…
I made a hands on video for this WP Dev Suite Review and you can view it below or at YouTube.
WP Dev Suite has 2 sides of this beast:
#1 – A template bank of over 50+ plugins you can choose from, rebrand and set up as YOUR OWN
#2 – A Custom plugin creator with 2,500+ different options (allowing you to create almost anything!)
WordPress is BIG business!
The Stats Don't Lie:
– 180,000 WordPress sites were created LAST MONTH
– WordPress powers over 74.6 million websites in the world
That's:
– 26.4% of the ENTIRE INTERNET
AND…
– 1 in 4 of ALL WEBSITES ONLINE
– 98% of WordPress owners download plugins…
– That's 75,000,000 REASONS you should check this out:
WP Dev Suite Review and product by Dr Alex and Crew
You can see my hands on video review here:
Recommend you check this out before Dr Alex removes the one-time fee and goes the monthly membership route: